Yeeha! I'm a

Drop Star

, well according to Tina from

Mummies Diaries

!


Tina wanted to reward her

Top
EC
Droppers

by creating a blogroll dedicated to her

Top Droppers

and MPG is one of them, so YAY! Thank you to Tina and her sidekick Tammy, who is also co-hosting this blogroll.

MPG

is very pleased to be a part of this blogroll and I love the badge too. It definitely goes very well here! :)

Although I have more than 99 blogs to drop on from the Red Hot Drops blogroll, it is always nice to have a wider range of blogs to go through daily. Sometimes, you get tired of dropping your EC on a particular blog, only to get zero reciprocated so far, so you tend to look for those who think the same way you do and drop on those who will most likely return the favour. And though I've secured quite a handful of reciprocals from the RHD, there's always room for more. So being included in this

Drop Star

blogroll is a bonus for me. Plus, I'll get to make more new friends so thanks again ladies! I wonder when Mariuca will be a

Drop Star

! :)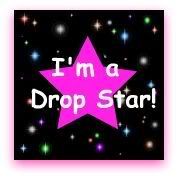 According to Tina, this is How it works:


Top droppers we count as people that have dropped on us

at least 8

times ever (you

don't
necessarily have to drop on both our blogs. It could be 8 drops on Mummy Diaries or 8 over at Mom Knows Everything).


We will check to see who our top droppers are in the Entrecard

statistics

page, and the qualifying ones will be added to our joint blogroll

, on both our sites.