I am in a very good mood today, which I hope will continue till the weekend! Reason being, I am still thrilled and excited with my new Mariuca Makeover! I simply love everything about my new look at WOAFS and now, I am itching to do some template tweaking here at MPG too! LJ who does my makeovers for me is currently away so any crazy thoughts I am entertaining right now about having a new look here for

MPG

will have to wait until she returns home to KL! :)

Since Valentine's Day is just one day away and I'm sure so many of us are in the mood for love, I hopped over to Blogthings to check out the new love quizzes there. I managed to persuade B to take the test too ha ha! You know how some guys don't like taking quizzes as much as we ladies do, especially when it has something to do with the big L, so thanks sweetie! We both got the same result. Come take the test and share your results with me. I'd love to know what movie depicts your love story! :)
Your Love Life is Like The Princess Bride

"Since the invention of the kiss, there have only been five kisses that were rated the most passionate, the most pure. This one left them all behind."

For you, love is like a fairy tale - albeit a fairly twisted one.

You believe romance is all about loyalty, fate, and a good big of goofy fun.

Your love style: Idealistic yet quirky

Your Hollywood Ending Will Be: Perfectly romantic

I would also like to spread more Valentine cheer to all my friends in the blog world by joining Jean in her Valentine's Love Meme! I think this is a great meme for you get a chance to show your love for LOVE itself by taking part. So what do you say? Will the following bloggers join me in this LOVE-ly meme?
Sandee

,

LadyJava (LLP), Mize, Kimberly

,

Polly

,

Faizal

,

Mystique

,

Lainy, Beth

,

Laura

,

Monica, Crissy

,

Gagay
&
Pu Niao
.
Also, please get the code for the corner banner from Jean's blog. As usual you know me and HTML, we don't jive that well so I couldn't get the banner code to appear on my post, however the love banner is proudly displayed at the top right corner of my blog as you can see, as per the rules of this meme!
1) Once you're tagged, install the corner banner at your blog as a third party html code. (The corner banner need to stay at your blog for at least 2 weeks).

2) Post about this meme,
Valentine's Love
.

3) Add your blog/s with link/s to the Valentine's Lovers list and leave a comment at this post
HERE
.

3) Tag all your special friends.

4) Please remember to update your list regularly so that you would not miss out anyone in your Valentine's Lovers list.

Corner Banner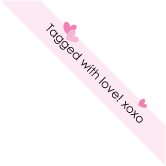 Valentine's Lovers
***end copy***


p/s: The wordings on this banner with automatically change to 'Tagged with Love! xoxo' on Feb 15.
MPG LOVES